Do You Need a Button Lid?
As cute as a button? Perhaps. As useful as a button? Absolutely! Button lids are a fantastic yet simple piece of packaging that every canning operation should know about.
From our first-time canners to seasoned industry professionals, the question that pops up the most is "what type of lid do I need for my product?" And that is no small question. For canning, there are two-piece canning lids, one-piece lids, vacuum lids, lug lids, continuous thread lids, etc. – all of which are metal lids with plastisol liners. So which one should you use? The answer is simple – it just comes down to the canning process you prefer for your product, and you can learn all about it in our canning guide. However, if you are also looking for a clear and effective way to tell if your product is tamper-evident, then you might need a button lid!
What is a Button Lid?
A button lid is a metal canning closure with a raised button center that helps provide tamper evidence and product freshness (see image below). When your jar with its button lid is secured and sealed using proper canning methods, the air is driven from the jar and a vacuum is formed inside. This negative pressure inside the container causes the button on the lid to be pulled down. The suppressed button will remain down until the container is opened or the pressure inside the container is no longer negative, at which point the button is released. This provides a first-time user of the product a clear indication of if the product is still good or if it has been spoiled or tampered with.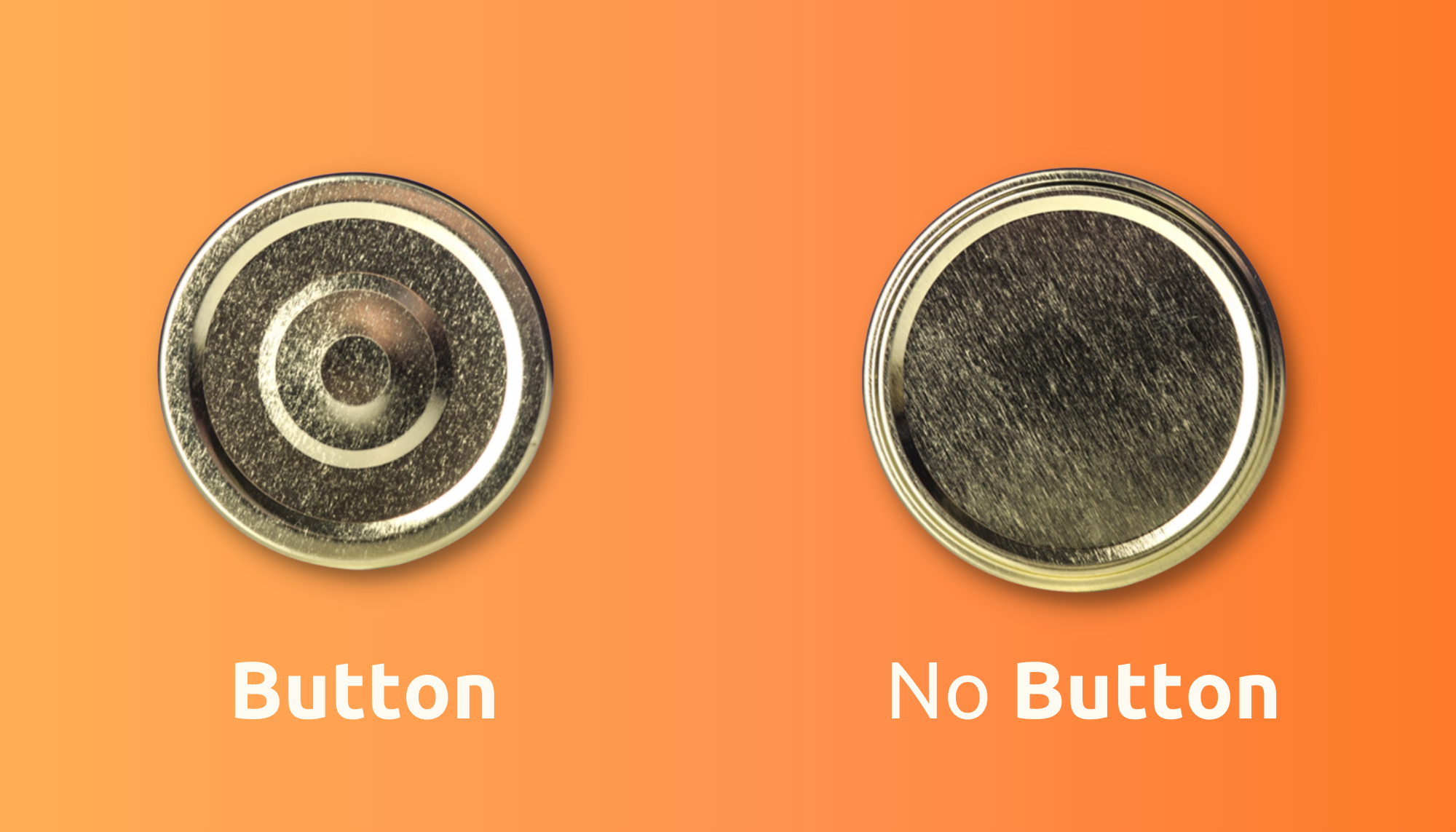 How to Know When to Use a Button Lid
If you are using a hot-fill canning process, a hot water bath, pressure canning, or steam capping, a button lid can help indicate whether or not your product has been processed and sealed properly. The process of activating the button can take several minutes or even hours, as the product inside the container must cool in order for the vacuum seal to be complete. On average, one-piece lids can take slightly longer than the two-piece set for that button to come down (So, sometimes two really is better than one!).
Please note that although you have canned the product correctly and the button may be down, this does not always mean that the product or recipe has been processed correctly. If your heat was higher or lower than recommended by your specific recipe, the product might turn out differently than expected. Even if it will still taste in the manner that your recipe calls for, it is important to abide by "Best-by Dates" and take note of any visual indicators that something may be wrong. If unexpected discoloration or other product changes occur, you may need to adjust your canning process accordingly. That said, assuming that your canning process and recipe preparation were done properly, a button lid is a great way to top off your product. It tells the world, "Hey there, look at me. I am a good canned product and I am fresh!" So why would you ever not want to use one of these things?
When Shouldn't You Use a Button Lid?
If you are not going to be using a canning process that creates a vacuum seal in some way, this may not be the best choice for your product. This is because without creating a vacuum, the button will not go down and the use of a non-activated button lid on your product can confuse customers. Most consumers will assume that if a lid has a button, it should be down. That makes sense, right? But, if it is not down, consumers may be under the impression that something is not right with the product. As mentioned earlier, in most cases, a button lid that has popped up (or that never popped down to begin with) is an indication to users that the product has either spoiled or been tampered with. Using a button lid when you don't need one could lead customers to assume the worst and avoid your product.
So, if you are using a canning process that requires lower and/or shorter heat, you might consider using a different, button-free lid. In some canning cases, your process may create enough of a vacuum to create a proper seal with a non-buttoned lid, but will not cause a strong enough vacuum to activate the button. This should be tested by you. Please keep in mind that most refrigerated products including dairy items like yogurt and milk call for a process that may not be strong enough to pull a safety button on the lid down.
If you still want tamper evidence, fear not. There are alternatives to offer a tamper evident quality to your product packaging such as shrink bands that will provide your customers with peace of mind. For non-canning products, you can also consider using plastic lids with a Heat Induction Seal in order to provide a hermetic seal that will also offer tamper evidence to users.
Conclusion
Feeling better about your decision whether or not to choose a button lid for your product? We hope that this article helped clarify any confusion and answered your valuable questions. Overall, button lids are a fantastic way to make anyone feel confident and secure that their product is preserved and safe for the public.