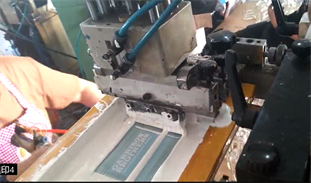 Q1:What is screen printing?

A:Screen printing is print multiple colors on cylindrical, oval and square containers.
Q2:Working method of screen printing machine
A:Screen printing machines capable of printing multi-color images on bottles and are excellent for printing on items such as round cosmetic containers, or glass bottles. More possibilities and flexibility.
Q3:Advantages of screen printing?
A:1.Permanent adhesion, it is print directly on the bottles, so there have no bubbling, wrinkling or torn label corners.
2.Waterproof decoration, will not destory the screen printing when filling. 3.360° design surface.
Q4:Difference between screen printing and decal.
A:Bottle screen printing is done by applying an ink via a screen, directly onto the packaging. There is no label at all.