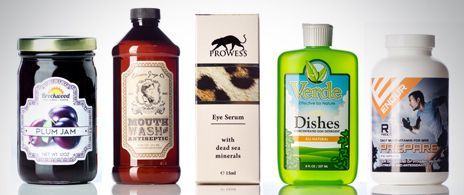 Container and Packaging not only helps you source your packaging, but we also help you with your packaging design AND getting it decorated! We can help you design your artwork and then decide on labels, silk prints, shrink wraps, offset prints, hot stamps, foil, metalizing and a myriad of other options that help to make your package stand out from the crowd.
Imagining what your packaging design could look like can be very difficult.
That's why we've designed a number of fictitious brands that you can ogle at. You'll see examples of foil, two-color silk prints, full color labels, full wrap labels, labels with custom shapes and die lines, labels for lids, and great ideas for how you can extend your packaging design to other applications.
All these brands are fictitious, we spent months making them up and designing them from scratch! We took them from concept to full production. We've trademarked these brands, so if you see something you like, just let us know. Our designers can create something similar for you.
And heck, if you really like one of these brands, you can even buy the trademark from us and use it to get started! Just click to visit our full portfolio, see more images, and get more info.